Audit
We will do a FREE audit of your current digital presence.
The SAVVY Audit covers the following:
Facebook
Dealership Social Media Advertising

Facebook Advertising has become a significant source to drive leads. With the hundreds of posts that come across one's feed, we have been able to develop Facebook Ads that don't look like an ad but rather a natural post. Our Data suggests that an individual is more likely to click on a post rather than an ad. It's important to understand the Facebook market when selecting the vehicles you want to push. The ads should include a variety of images of the advertised vehicle(s), prices, and captivating headlines/ad copies, including the use of emojis.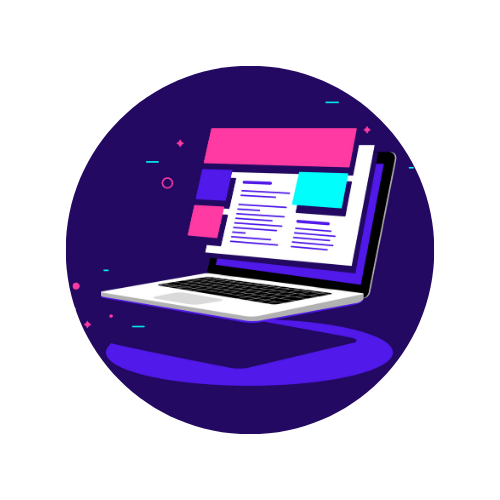 Dealership Websites should be fast and user-friendly. Longer load times and poorly designed websites result in users becoming frustrated and leaving the website. When you are actively spending money on digital advertising efforts, you need to capitalize on every click you buy. If your ad's landing page takes too long to load or shifts as the user tries navigating, you could forfeit an opportunity on an in-market customer. Having a quality website will boost your organic ranking as well as provide higher engagement from all marketing efforts.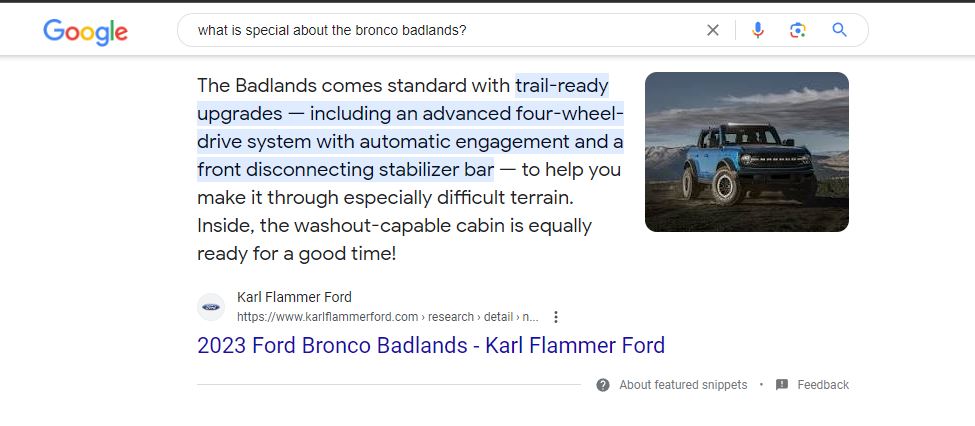 SEO content is more important than ever for your dealership. Your website should be ranking for more than just your dealerships name. If more than 90% of your organic traffic leads directly to your homepage, you are missing the mark. Quality SEO content results in your dealership showing above third parties and other competitors for relevant searches in your market.
PPC
Automotive Paid Search Advertising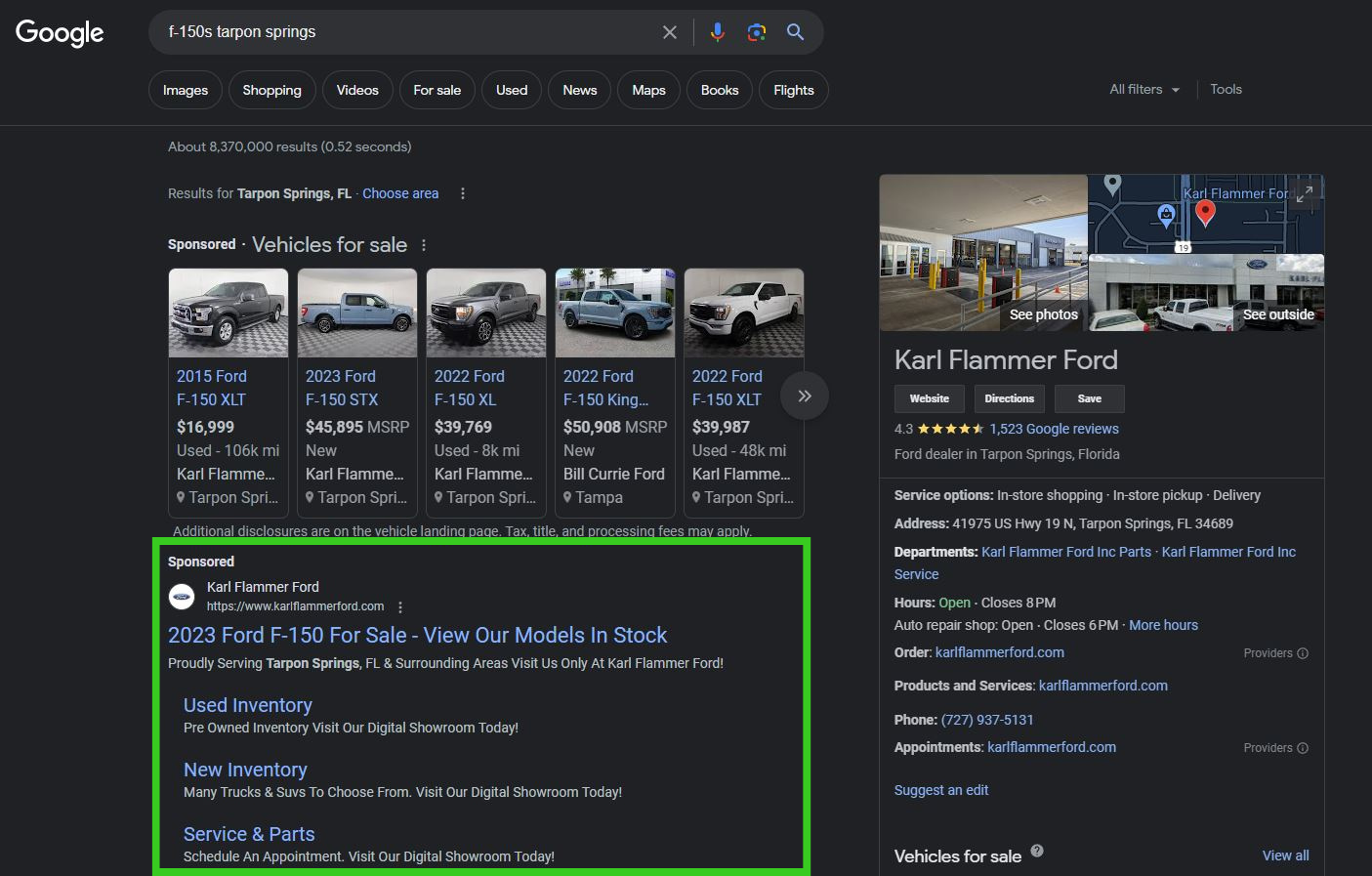 Paid Search Advertising is the number one lead driver for automotive dealerships. The highest priority is to show up as the first ad on the search results page. It is not nearly as beneficial to show up for every search if you are always the last ad on the page. Your ads also shouldn't be showing for keywords that aren't relevant to the goal. Your "New 2023 Ford F-150s for sale" ad should not show up when a user searches for "F-150 Headlight Repair".
Vehicle Listing
Google's Shopping Ads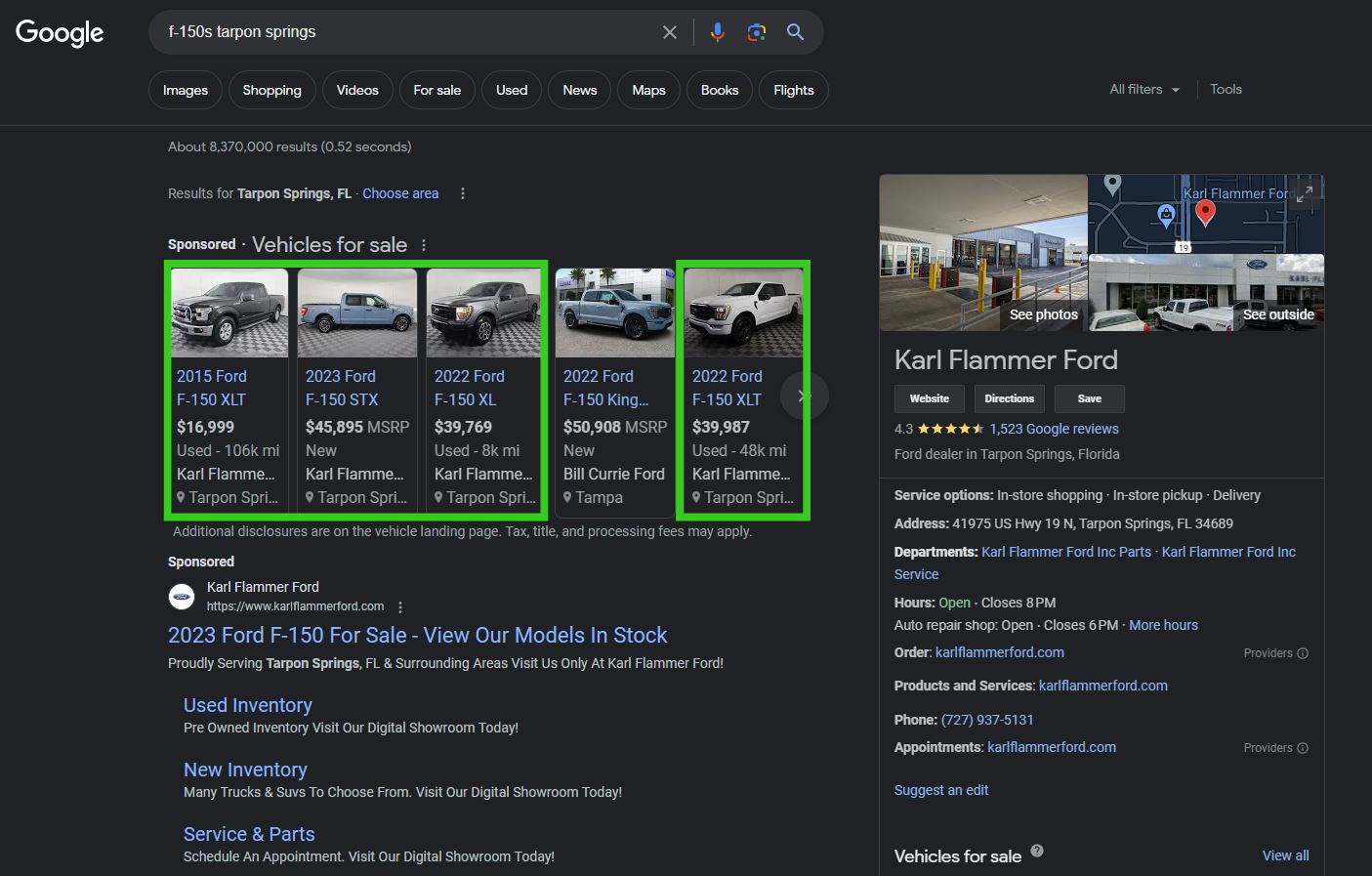 Vehicle Listing Ads are effective at allowing users to see your live inventory front and center in search results. Your VLA presence is strong when the ads are most heavily populated with your dealership's vehicles. While there is an option to expand the row of VLAs, it's ideal to have your inventory represented more than any of your competitors within the first five vehicles